EQ Lab & The Future of Decentralized Finance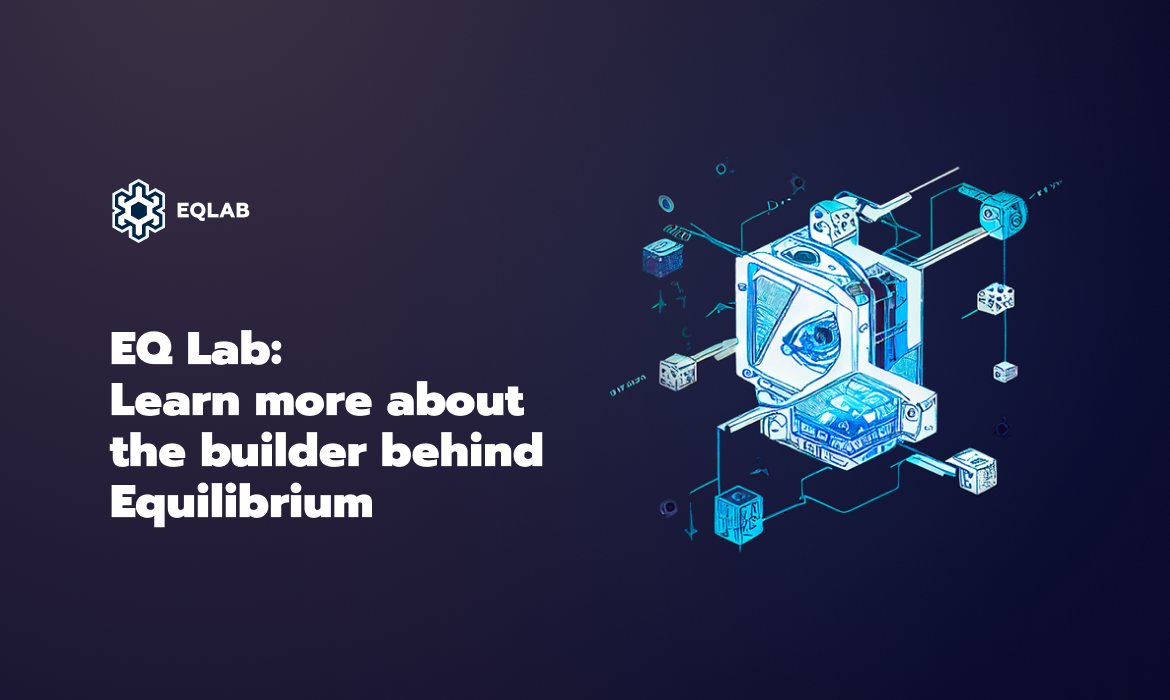 EQ Lab is a software engineering company specializing in building robust and innovative Web3 products on top of multiple decentralized platforms, including Ethereum, Polkadot, TON, and others. Our core expertise lies in the field of finance and decentralized economy but is not limited to ranging from high-load infrastructure to applications incorporating NFT-based structures.
The flagship project in our portfolio is Equilibrium, a cutting-edge all-in-one DeFi platform that leverages the power of the Substrate development framework and Polkadot's parachain architecture. It provides users with a seamless and secure experience offering a wide range of features such as a decentralized stablecoin, lending, borrowing, and trading. Equilibrium's mission is solving capital inefficiency in DeFi, making Equilibrium a versatile and powerful solution for high-leverage yet safe operations with digital assets.
What sets EQ Lab apart is our valuable blend of financial expertise and technical know-how.
Some of the team's notable past achievements include:
GMRA-compliant p2p lending protocol on Ethereum called Nitrogen. It supported various ERC-20 tokens and sophisticated risk management models from TradFi repo markets.
EOSIO-based collateral-backed stablecoin protocol (EOSDT). The protocol leveraged EOSIO blockchain speed and deferred transactions to optimize liquidations thus lowering collateral requirements.
Bridge between TON blockchain and heterogenous networks. It adhered to a federated relay structure and was built using TON's Fift and C++ languages.
Sophisticated risk-based approach to collateral backed loans on Polkadot which allowed to build a unified money-market, a stablecoin and a spot margin trading engine with leverages up to 20x.
The Curated - a digital catalog that allows for purchasing of digital art collections picked by a panel of experts.
Expertise and extensive research in the field of ZKPs allowed to build a proof of concept for rust-based blockchains (Substrate and Polkadot in particular).
As you can see from the list above, it's not just Polkadot at the center of EQ Lab focus. The Substrate experience means the team is well-versed in building complex custom modular blockchain solutions. XCM technology is one example that has the potential to be utilized to transfer messages between different ecosystems and implemented outside of Polkadot.
EQ Lab team's first-hand experience building on Polkadot has led to a number of unique technical solutions on offer to help less experienced teams and projects looking to get into the space.
Here is a non-exhaustive list of custom features and areas of expertise EQ Lab team perfected while building Equilibrium:
Unique bailsmen liquidation mechanism
Robust oracle solution
XCM implementation experience
Testnets and full emulation integration testing
Custom assets and balances, balances double accounting
Bridging solutions for EVM chains
Blockchain backend development
Custom balance checker and algorithmic asset management
Blockchain storage and trx throughput optimization
The aim is to create innovative and secure DeFi solutions that meet the needs of our clients using our extensive knowledge and experience. Partnering with EQ Lab will give you access to our team's expertise and resources and open the doors to DeFi.